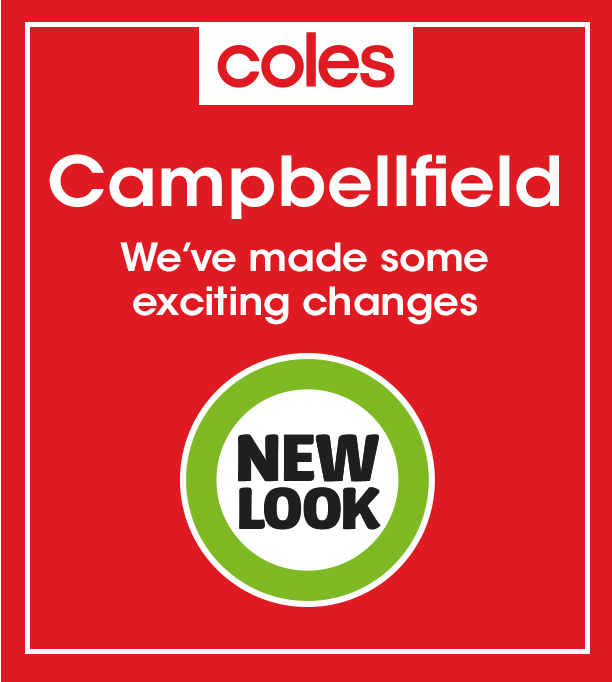 The new look Coles at Campbellfield Plaza is OPEN!
Coles will create 32 new jobs for the Campbellfield community when it opens the doors to its new-look supermarket at Campbellfield Plaza.
The store has been tailored to the meet the needs of the culturally-diverse customer base[1], launching a dedicated Halal meat case and expanded range of international foods.
Campbellfield's 'store of the future' format will debut meals, salads and snacks from the new 'Coles Kitchen' convenience range, including 100 quick and easy meals across Italian, Asian, Indian and Australian cuisines.
This is in response to ever-increasing customer demand for convenience, with Coles research finding one in three customers do not have the time to cook from scratch, with chopping and cutting regarded as their biggest pain points with meal prep.
Coles Campbellfield Store Manager Yuksel Mese, who has worked at Coles for 19 years, said he was delighted with the store's brand-new features and the opportunity to support local jobs.
"We're excited to be launching a brand-new, elevated supermarket experience for the Campbellfield community. The modern store brings our customers a tailored, local offering that we know they'll love," Yuksel said.
"We're so proud of the hard work everyone has put in to get the store ready for re-opening and it's fantastic that we're creating more than 32 local jobs for the local community."
"I am honoured and humbled to be leading my team through this exciting new journey and to be offering our loyal customers exceptional service and even more convenience in this new-look store for years to come."
The store also features an open front in-store bakery with the complete range of artisan-style Laurent sourdough bread and fresh flat bread made daily, a gourmet delicatessen with a large selection of local and international cheeses, and an expanded deli and fresh produce range.
Coles' convenient and complimentary shopping service Click&Collect, will also be available, allowing residents from Campbellfield and surrounding suburbs to order their groceries online and have them delivered straight to their car boot.
The Coles Campbellfield store officially opened to shoppers at 7:00am Wednesday 7 October and is located at Campbellfield Plaza, Mahoneys Road, Campbellfield. Regular store trading hours are 7am - 11pm Monday – Sunday.